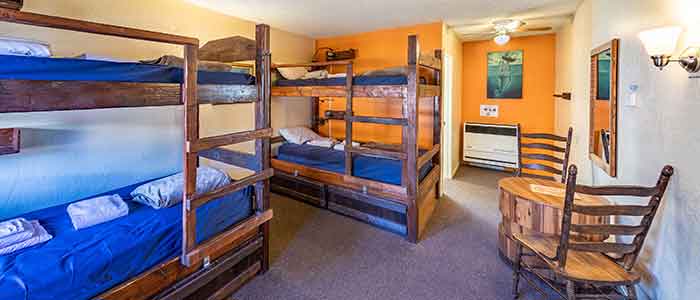 Cozy Twin Beds Handmade from Reclaimed Wood

Clean Towels, Comfy Sheets, Blankets, and Pillows

Ensuite (Sink, Toilet, and Shower)

Personal Fans and Night Lights

Spacious Lockers (securable by most padlocks)

Thermostat-controlled heaters
4-Bed Mixed Dorms ensuite
Co-ed shared rooms with 4 bunk beds. Lockers found underneath each bed for secure luggage storage. *Locks for sale at the desk, as supplies last.*
4-Bed Female Dorms ensuite
Female shared rooms with 4 bunk beds. Lockers found underneath each bed for secure luggage storage. *Locks for sale at the desk, as supplies last.*
8-Bed Mixed Dorms ensuite (2)
Great for large groups, this dorm has 2-bathrooms.
Private Rooms for 1 or 2 guests
For those wanting more privacy, we have fully furnished private rooms with a Queen bed ensuite.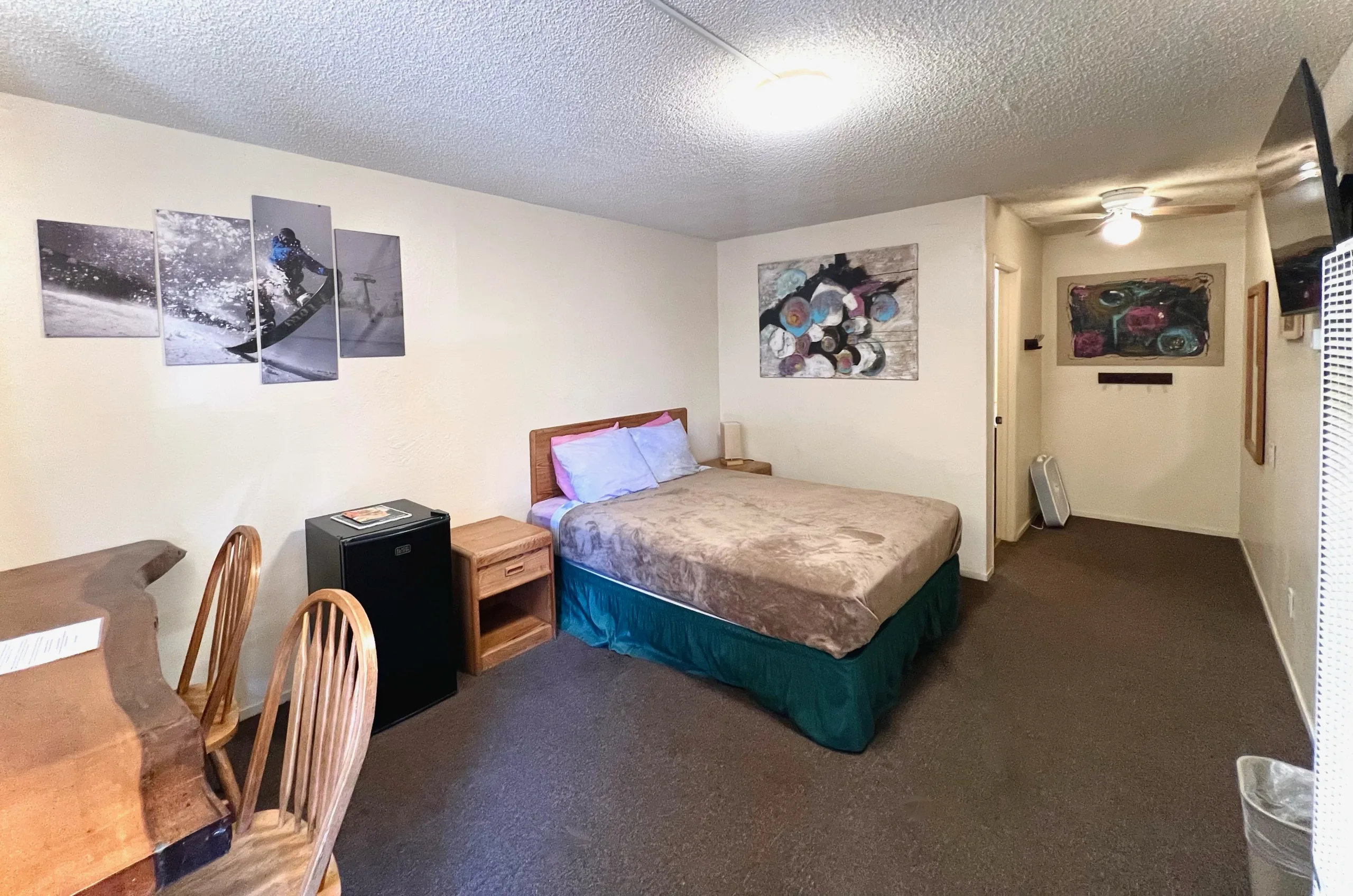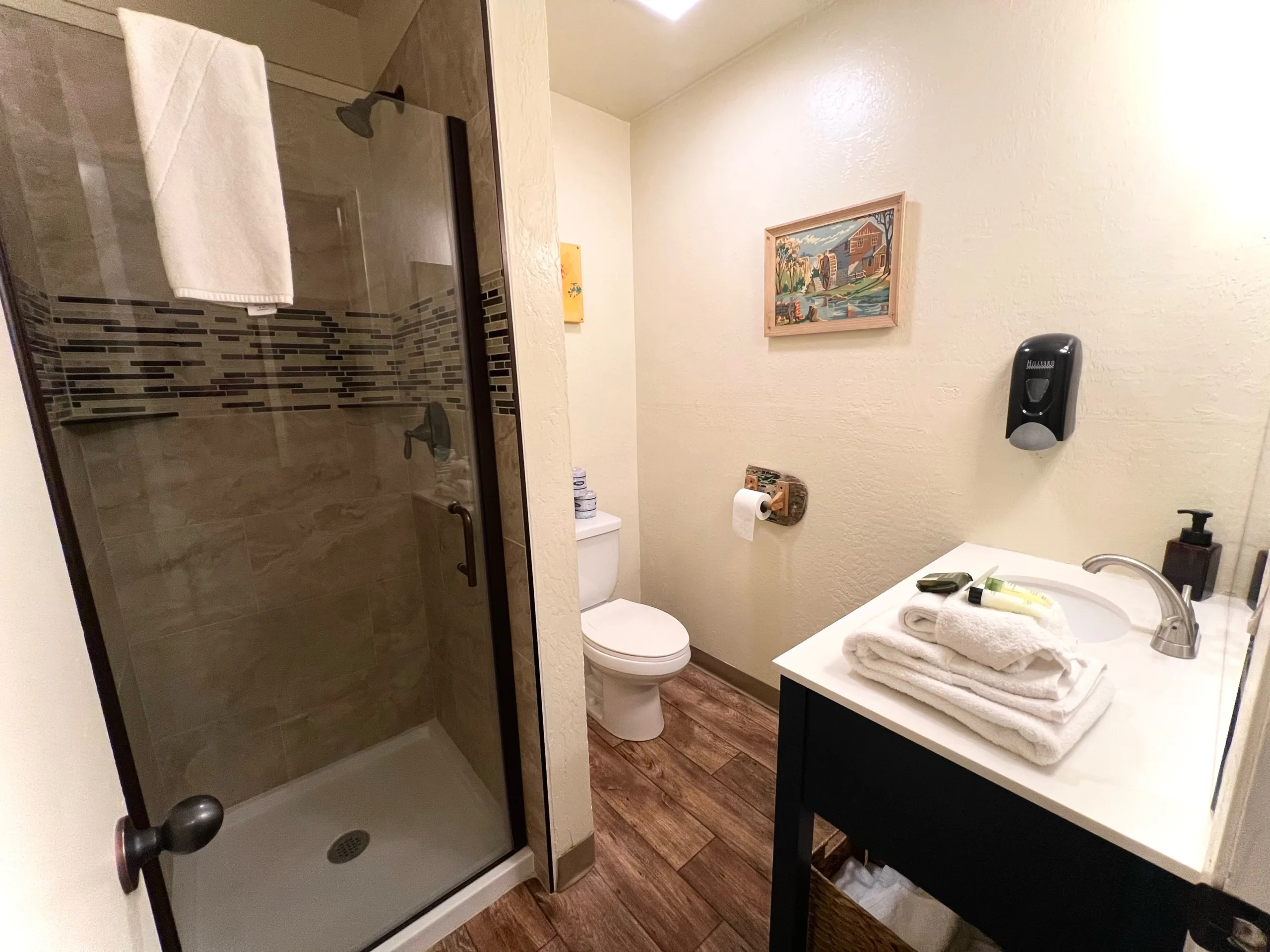 All rooms ensuite

Safe Baggage storage

Printer access in the office

Communal Room with fully equipped kitchen

Quiet Computer Room with book exchange

In-room ski/snowboard storage

Ski/snowboard tune up station

Beers for sale in the office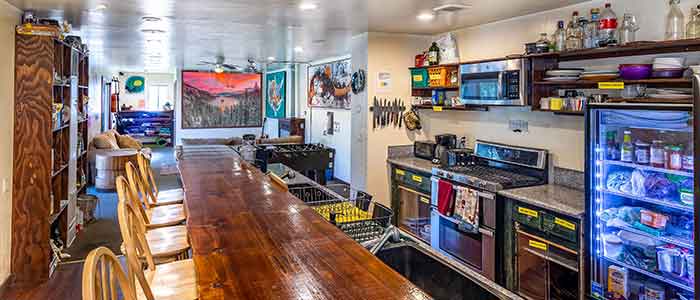 Communal Room
Think of this as your living room, but better! The fun doesn't have to stop the moment you step off the slopes. This is the perfect corner for you to cook up a storm with your new family, relax around the fire, or get ready for yet another crazy night out.
Fully Equipped Kitchen

Big Dining Room Table

Comfy Couches

Fireplace

Balcony Overlooking Heavenly Mountain

Projector for Movies with a BIG Sound System

Communal Bathroom

Board Games and Instruments

Foosball & Ping-Pong

Other Cool Stuff!!!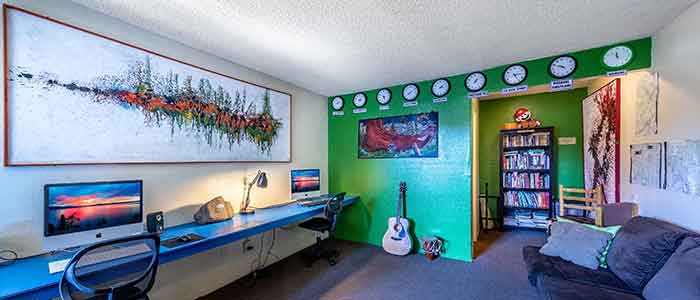 Computer Room
Sick of squinting at that tiny smartphone screen? We've got you covered. Our trusty Mac is free to use 24/7. Or if you want to disconnect for a while, curl up on our comfy couch with a novel from our Book Exchange shelf.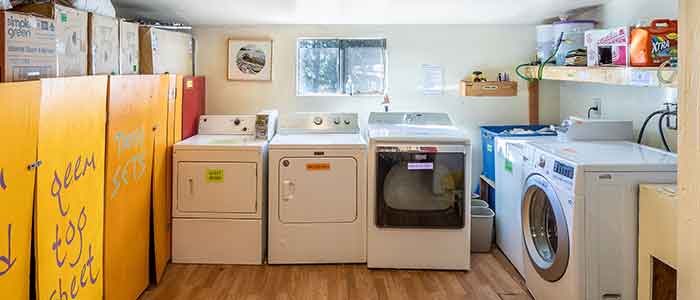 Laundry Room
You know the drill:
Gather your dirty laundry.


Place laundry in one of our coin-op machines. (We have change downstairs in the lobby.)

Turn machine on!

Boom. Magic.